Russ Grimm is FINALLY about to be inducted into the Hall of Fame. This is welcome news to all fans of The Hogs. Redskins fans the world over are thrilled with this announcement. Russ Grimm was the heart of the Hogs. His nose to nose battles with Hall of Fame DT Randy White are legendary (we have all heard the story of Grimm and Bostic announcing repeatedly to White that the next play was going through him, and then doing just that through much of the game), considering that Grimm won the vast majority of those battles, it is only just that he be a member of this year's Hall of Fame class. Think about it… Randy White goes in as one of the best Defensive Tackles in history… shouldn't the one Guard in the league who was consistently able to shut him down also be in? Shouldn't he have been in a while ago?
Now, that's moot.
So, let's celebrate that there is finally a Hog in the Hall… Heck, according to George Starke, he is the reason for the name, "The Hogs"… But, there needs to be one more.
The rest of the story is, while Grimm was clearly the heart of what was arguably the greatest offensive line in NFL history, he was but a part of it. The Hogs were comprised of great players…
Joe Jacoby, LT/RT, 1981-1993.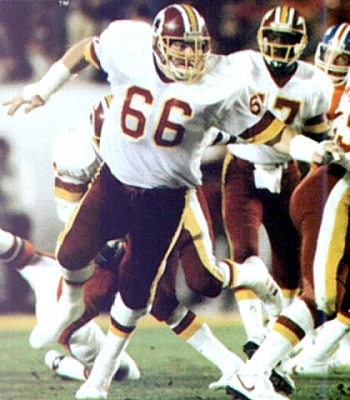 "Jake" is the poster child for the overlooked. He arrived as a no expectations free agent to Redskins camp… (legend has it that Joe Gibbs thought he was a Defensive Tackle, in as camp fodder) and became one of history's greatest Left Tackles. For every year that Russ Grimm went to the Pro Bowl, Joe Jacoby was right next to him. Big Jake's absence from the list of HOF candidates is no less baffling than the length of time it took for Monk and Grimm to be elected.
There are a number of other overlooked Redskins… and my concern is that time and distance will continue to dilute memories of their greatness…
This list is in no particular order… their greatness speaks for itself.
Len Hauss, Center, 1964-1977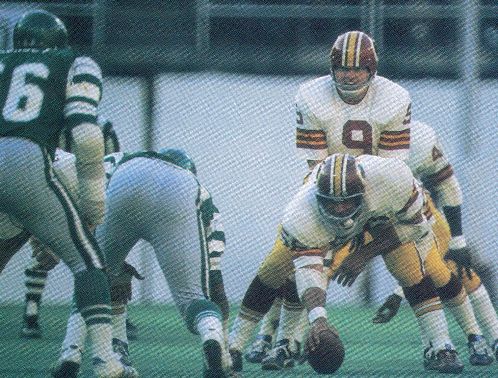 Hauss was the rock upon which Sonny Jurgenson, and later, Billy Kilmer, stood to weave their magic. He pointed the way for Larry Brown and Charlie Harraway. Hauss started 192 consecutive games between 1964 and 1977. He was selected for the Pro Bowl 6 times. For many years, when you thought "Center" the picture in your head had to have a burgundy jersey with the number 56. Lenny's absence from the Hall is a disgrace.
Larry Brown, Half Back. 1969-1976.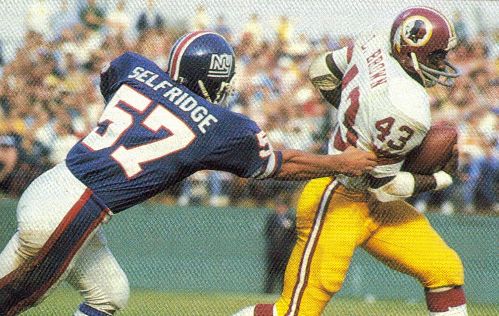 Larry was Washington's first 1000 yard rusher. He was the soul of the Redskins offense from 1970 until his retirement. His tenacious and gritty play was an inspiration to watch. He was a prolific rusher, a dangerous receiver out of the backfield, and a devastating blocker in pass protection… in fact, that was his forte when drafted by the great Vince Lombardi. It was Lombardi who discovered Larry's hearing deficit, resulting in Larry suddenly being able to hear the snap count… and the rest was history. Larry was selected to the Pro Bowl 4 times, was a 3 time All Pro selection, and was named the NFL MVP in 1972. When Larry Brown played, he literally left it all on the field. Why is this incredible player not in the Hall?
Jerry Smith, Tight End, 1965-1977.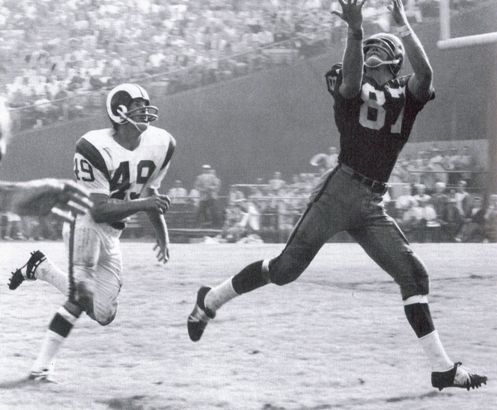 He was drafted in the 9th round of the 1965 NFL Draft. He turned into Jurgensen's go to receiver. When Jurgensen needed a first down, he looked for Jerry Smith, who was the model for using the Tight End as a devastating offensive receiving weapon. Teamed with Bobby Mitchell, and Charley Taylor, he contributed heavily to the most prolific pass offense of the late 60's and early 70's. His career included 60 touchdowns, which at the time of his retirement, was a record for tight ends. He had 5496 yards receiving, and an average of 13.1 ypc. Nothing to sneeze at, but in 1977, that was HUGE. Smith was adept at turning a short reception into a big gain. It was many years before his achievements were surpassed. He died prematurely, at the age of 43, of HIV. His stats and career should have made him a shoo in for the Hall of Fame…
Pat Fischer, Cornerback, 1968-1977.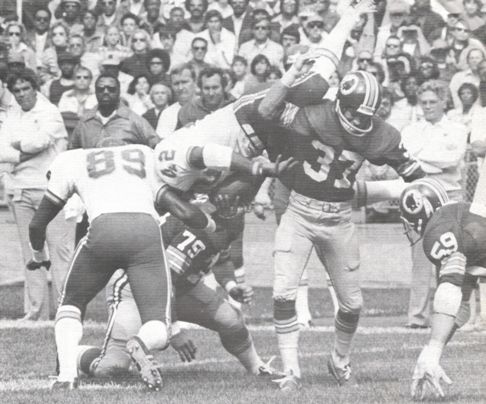 "The Mouse" was one of the most feared cornerbacks of his day. Bump and run was his forte, and related to a vicious, physical style of play that absolutely belied his small stature. Receivers respected him, and did what they could to avoid him in coverage. Like Larry Brown, Pat Fischer put everything he had into his game. He was known as a punishing tackler, despite his size. In my opinion, Pat Fischer was every inch the equal of Roger Werhli, who was selected to the Hall 2 years ago. Rules that outlawed Bump and Run coverage were created largely because Fischer was so effective in using the technique. You might say, he changed the game. Fischer was a 3 time Pro Bowl selection. Pat Fischer needs to be in the Hall of Fame.
Chris Hanburger, OLB, 1965-1978.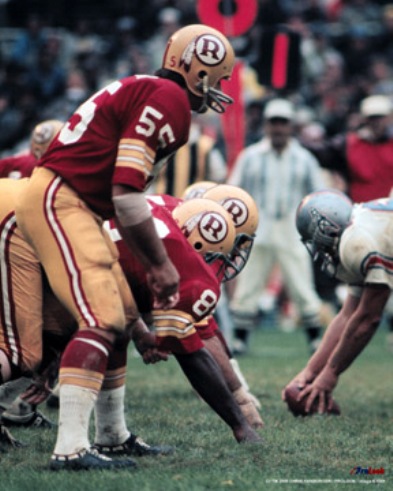 Speed, grace and a devastating tackler. Hanburger was everywhere on defense. He was selected to the Pro Bowl NINE times during his career… NINE!. No Redskins player has ever equaled that. To opponents, he was known as "the Hangman", because of his penchant for the use of clothesline tackles. He was a First Team All Pro 4 times. Between 1966 and 1976, 1971 was the only year in which he did not receive recognition as either a Pro-Bowler or an All Conference selection. His absence from the Hall of Fame is a complete mystery.
What are we gonna do about it?
HTTR